Frances Eloise Hearn Pitts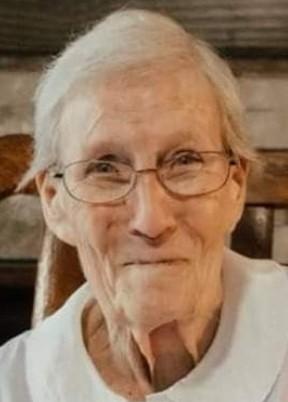 Frances Eloise Hearn Pitts was born on September 16, 1934, in Live Oak, Florida. Surrounded by her loving family, her soul passed peacefully into Heaven to receive her eternal crown of life on May 30, 2023 at the age of 88.
The only child of Laura Horne Hearn and John Melvin Hearn, Eloise wished to be remembered as a lifelong believer in Jesus Christ as her personal Savior, a good wife and mother, a delighted grandmother and great grandmother, as well as a lover of history, and a lifelong reader. She was proud that some of her ancestors were Florida Pioneers, having settled in Florida even before it became a state in 1845.
As a child, she traveled the state of Florida with her parents when her father served as Suwannee County Judge from 1940-1960. She was quite flattered in high school and college, feeling grown up and sophisticated when various colleagues of her father would ask her to dance at the County Judges Summer Conventions she attended with her parents. During high school, Eloise was chosen as Girls State Representative for Suwannee County High School in 1951, voted Most Likely to Succeed, and was Salutatorian of the Class of 1952.
Eloise was a talented fashion sketch artist, and played the piano. Attending the theatre, especially musicals, & scrapbooking were her favorite pastimes in high school & college. Having earned a full 5 year college scholarship, Eloise pursued the profession of teaching. She earned her BS in Education at Florida State University, June 1956, and her Master's in Early Childhood Education at the University of Florida the following year.
Eloise met her sweetheart Bonard at UF in June, 1956, and they married on December 20th of the same year. They lived happily together for 52 years, until he received his promotion to Heaven and crown of life everlasting on October 12, 2008.
Eloise enjoyed the early years of her career as a school teacher. After she and Bonard married, the family grew, and she chose to become a full time homemaker, thus fulfilling her life dream of marriage and motherhood. Eloise was an extraordinary cook & seamstress, and she loved spending time at the family cabin in the Panhandle, taking walks to Lake Minnehaha with Bonard to watch the sunset, & cruises with family and friends. Her hobbies included square dancing, reading, watching Jeopardy & Wheel of Fortune, completing word search puzzles and the Sunday newspaper jumbles. In her later years, she enjoyed reading the obituaries. We hope she would be pleased with hers! She also loved to play Scrabble, and was usually the gracious winner!
Eloise had a generous heart and a large collection of "Certificates of Recognition" from her many charitable contributions, which included historical foundations, war veterans, underserved children, colleges and universities, animal health, and many Christian evangelical organizations. She was a true Steel Magnolia and proud native Floridian, and enjoyed dressing in period costume while acting as a docent at the Historic Village in downtown Clermont. Eloise was a lifetime member of the FSU Alumni Association, the United Daughters of the Confederacy Granville Beville Chapter, and the Tomoka Chapter of Daughters of the American Revolution.
Eloise was grateful for her Christian heritage and loved attending and serving in church from childhood. As an adult, she taught the Adult Sunday School class at First Christian Church of Clermont for many years, as well as Vacation Bible School. She was a member of the JOY Ladies Circle, a dorm mom at Lake Aurora Christian Camp, and a greeter and active member at South Lake Christian Church. In her later years, while living in Texas with her daughter, Susan, Eloise was a faithful member of the Christian Church of San Angelo. She attended St. Luke's Episcopal Church regularly with her son, Jeff, while residing with him in Durham, North Carolina. When Eloise was no longer able to attend services, she watched First Baptist Orlando, at home in Clermont, while in her daughter Laura's care.
We are so thankful that Eloise was of sound mind for the duration of her life, even working on her word search and scramble puzzles after her hip fracture during her stay in physical therapy rehabilitation.
Eloise is predeceased by her beloved husband Bonard Franklin Pitts, and daughter in law, Audrey Hamilton. She was proud of her children & grandchildren, and blessed to be survived by her children: John "Jeff" Pitts (Laura Danes); Laura (Mark) Richardson; Susan (Jim) Farmer; and Donald (Lisa Bell) Pitts; and her former daughters in law, Lisa Pitts and Sammy Kern; her grandchildren: Andrea (Randy) Pitts Hamilton Weinsten; Joshua Pitts; Jacob Pitts; Alexandra (Chris) Richardson Mangold; Grant Richardson (Daisy Sutherland); Ethan (Carley) Farmer; Abram (Brittany) Farmer; Caleb Farmer (Brittany Evans); and Colin (Taylor) Bell; her great grandchildren: Audrey Weinsten, Sophia Farmer, Mateo Farmer, Sawyer Bell, and 2 more expected this summer. Eloise is also survived by several cousins whom she loved like siblings.
The family will be having a celebration of life and memorial gathering in the coming months at the family cabin in the Panhandle. Gifts in memory of Eloise may be made to Lake Aurora Christian Camp, 237 Golden Bough Rd, Lake Wales, FL 33898 http://www.lakeaurora.org , which Eloise, her children and two of her grandchildren enjoyed attending in their childhood and teen years, or the Florida Sheriffs Youth Ranch, PO Box 2000, Boys Ranch, Florida, http://[email protected]., which Eloise was proud that her parents helped establish.
We are grateful to God for the long, blessed life of our wonderful mother and grandmother, Eloise, and we appreciate the kindness and love shown to her from all who knew her.