Sheriff's Office celebrates new headquarters with open house, ribbon cutting
Officials and people within the Holmes County and Florida Panhandle community were at the Holmes County Sheriff's Office headquarters on Monday, Nov. 20, to celebrate the new HCSO building on Highway 90.
The occasion was commemorated with an open house and ribbon cutting. Sheriff John Tate welcomed supporters and thanked people who made the move possible. 
The new HCSO headquarters is at the former ag center in order to have more space. 
"Probably about a year ago today, we came out here–myself and a couple of staff members–back when the ag center was the ag center. We looked around and visualized what we could turn this into," Tate said. "We went to commissioners and got appropriations from Senator George Gainer."
The new headquarters "couldn't have happened without our partnership with representatives and senators in Tallahassee, then and now," Tate said. Tate presented plaques of appreciation to Gainer, Sen. Jay Trumbull, and Holmes County Commissioners Earl Stafford and Jeff Good, among others. 
"Thank you very much," Gainer said. "I appreciate it. I've been able to move up to this part of the country and I love it. Thank you for being so helpful." 
"We're really, really proud of what y'all have been able to do here," Trumbull said.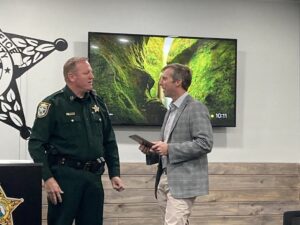 Tate said he appreciates the partnership he has with the County Board of County Commissioners.
"There ain't a time I can't go to them and ask or they come to me and we try to work with each other," Tate said.
County commissioners and Tate have never said no to each other, Tate said. 
County Administrator David Corbin said Tate was one of the first people he met when coming over to Holmes County.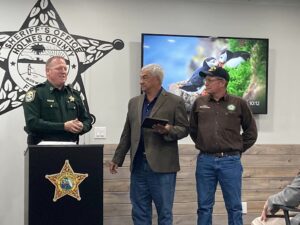 "He took me in from day one, treated me like somebody, as a friend," Corbin said. "The way you make things work is working together. When you work together and you pray together, you stay together."
The main goal with the transition was to "have a great building at as minimum a cost as we could do it," Tate said.
 "I'm proud to say when we got bids to renovate this building, the bids came in about a million and a half dollars. I'm proud to tell you that 75% of this work was done with inmates and my staff. We came in at a little over $600,000." 
Everything in the center is new and the project came in under budget. Trumbull said the project doing so is a "great testament to Northwest Florida."
"The most proud I am of this place is our evidence room," Tate said. 
The building can also accommodate growing into additional space, if need be.
The Bonifay Police Department will move into the old HCSO office at 211 North Oklahoma Street, in the heart of Bonifay.
HCSO is also celebrating the 175th anniversary for the agency this year.