Volunteers make Arc multi-sensory room a reality
In a day and age of neurotypical people living in an overstimulated world, it's even more important to safeguard those without the normal defenses from stress-inducing sensory environments. 
Just in time for Developmental Disabilities Awareness Month, the Arc of Washington-Holmes Counties, Inc. hosted an open house March 4 to showcase the newly minted multi-sensory room and introduce the new sensory-centered curriculum.
"When the local chapter asked for help, it was something we really wanted to do," said volunteer Deborah Linton. 
A volunteer group, comprised of retired and ex-staffers from The Arc of Florida, and Arc's maintenance staff spent several weekends creating a state-of-the-art sensory room after Executive Director Sandy Pritchard expressed her wish to integrate this therapeutic environment for clients at the Adult Day Training Center in Chipley.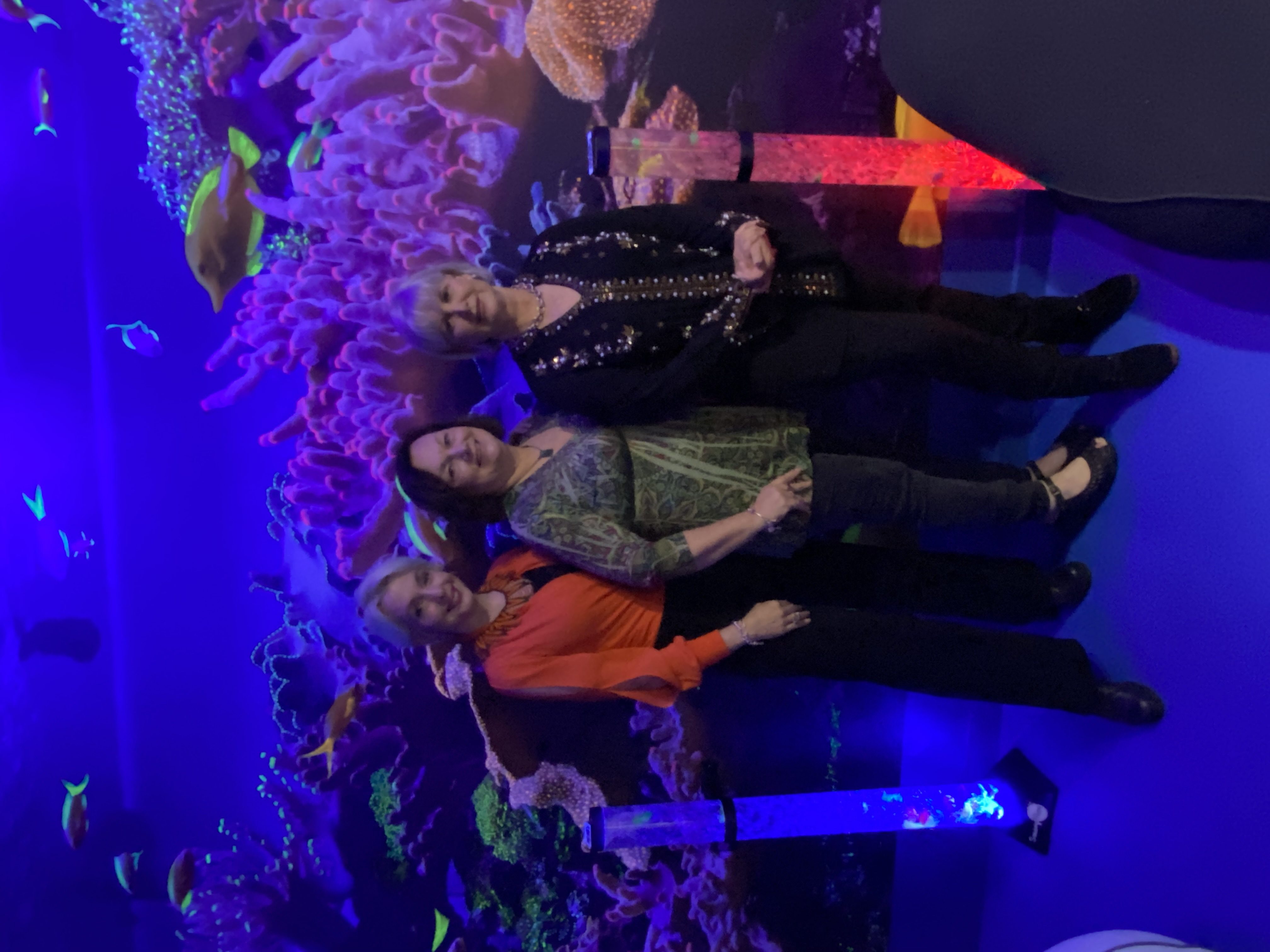 Volunteers Deborah Linton, DeAnn Scarborough and Alisha Linton were the core power behind making the sensory room a reality. Washington County school teachers also got onboard by donating appropriate sensory games, fidgets and activity items.
"The particular group we were reaching out to has sensory processing deficits," Linton said. "The underwater theme is supposed to be very calming and soothing. This helps meet the sensory needs they are trying to fulfill."
The multi-sensory room is a place where those with conditions that include self-stimulatory behavior, such as hand flapping, pacing and rocking can find a calming environment that reduces the urge to self-stimulate. 
"Being in an environment like this calms them down," Linton said. 
When clients enter the room, they are prompted to communicate how they are feeling in the moment. If they are nonverbal, there are buttons to communicate 'yes' and 'no' answers to questions and a sliding scale of emotions that can be used to indicate how they feel.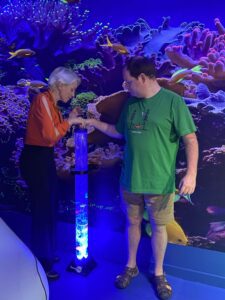 "They come in here if they're on overload," Linton said. "They come in here to relax."
The room features individual and group activities and learning modules for those experiencing sensory processing deficits. The setup serves persons with sensory over-responsiveness, sensory under-responsiveness and sensory-seeking behaviors. 
"It helps down-regulate the nervous system. They can come in here and just reset," said Alisha Linton, an Arc volunteer who was previously the director of advocacy and training at The Arc of Florida. 
Part of the Arc's mission and the National Association of Councils on Developmental Disabilities (NACDD) awareness month are about educating the public on the inclusion of people with developmental disabilities in all facets of community life to create a strong, diverse community. Some of the many ways Arc clients contribute to their community are through volunteering with food banks, thrift store ministries, delivering Meals on Wheels with the Council on Aging, filling the Blessing Boxes pantries and more. 
"It's much bigger than what people think," Pritchard said. "People may drive by and think it's just people with disabilities, but they're really out in the community. We do training with them for everyday living skills."
The Arc of Washington-Holmes Counties, Inc. currently has 94 local clients with intellectual and developmental disabilities, such as autism, Down syndrome, cerebral palsy, Prader-Willi syndrome, fetal alcohol spectrum disorder and those with traumatic brain injuries.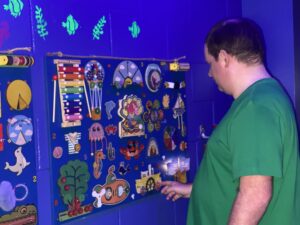 Melissa Troublefield, Adult Day Training Center program manager, said Arc clients earn an income by packing soft, fluffy fibers into bags, weighing them out, packing them into boxes and shipping them out for future use in cement used to construct buildings. 
"They get a paycheck, so they are very happy," Pritchard said. 
The clients work for about three hours per day and then spend the rest of their day volunteering or receiving therapies.The clients also do cooking classes, fitness classes and go on fun outings.
"We have a lot of support from our community," Pritchard said, adding that's what makes the Arc successful with giving clients a high quality of life and enriching experiences in their own community.
Arc employees and volunteers collectively hold a special place for the special needs community.
"I told Ms. Sandy I'll be a volunteer until the day I die," Alisha Linton said.