Bonifay officials continue to receive backlash from public
Bonifay City Council and staff were the recipients of ongoing criticisms from the community during a public meeting on Monday, Sept. 11.
Tensions have run high in town following the termination of former Police Chief Jimmy Macon's contract, as announced by Mayor Larry Cook during a Sept. 5 meeting. The announcement during a Sept. 7 special session that a millage rate would be set for the first time in more than 50 years has also drawn backlash. 
The Sept. 11 meeting drew a standing room crowd, with some attendees holding signs saying "Get a real mayor not a crook!" and "Larry Crook."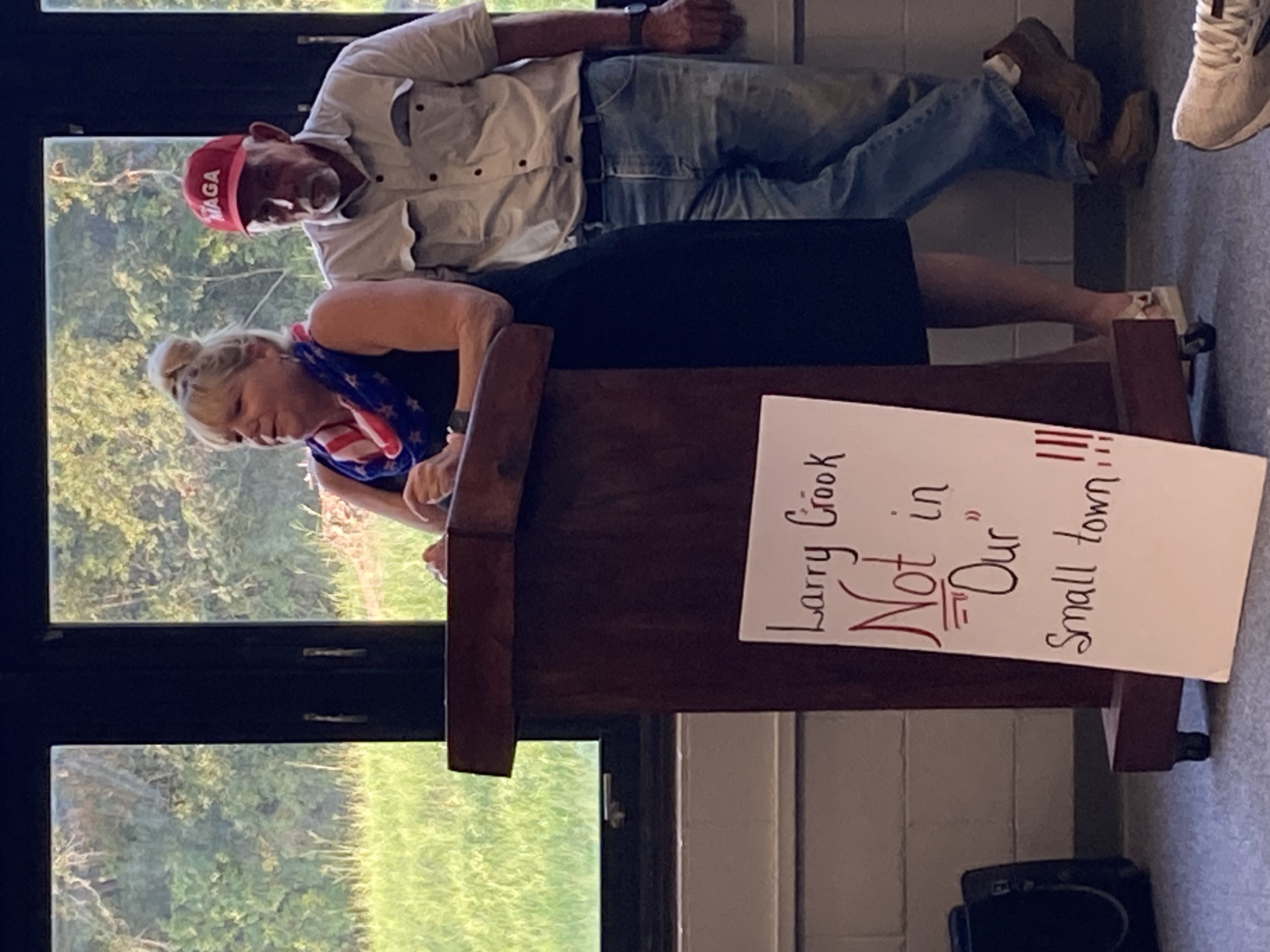 "We want our chief back," Joyce Everett said to applause from other audience members. "We want a new mayor."
Vicki Clemmons said Cook appointing Whitaker as police chief was an example of nepotism since Cook and Whitaker are friends.
"There's a problem with that man who elected himself mayor," Clemmons said. "Larry Cook, you're out of order." 
Bonifay resident Richard Willsey said city councilmembers acted illegally and were out of order when removing people who spoke against the council from the Sept. 7 special session.
Cook did not address comments or answer questions from the public while at the dais, including a request to step down from office. 
City Clerk Rickey Callahan said they have been legally advised that councilmembers are not required to answer constituent questions from the dais. 
"Not required but not prohibited," Willsey said. "It shows a lack of concern for the questions and the people that are asking the questions." 
"Mr. Cook, have you ever been investigated for burning tires–which is illegal under the Department of Environmental Protection standards?" Willsey said. "I know you won't answer but I know you have."
Willsey then provided councilmembers and city staff pictures of property Cook has supposedly showing trash and violation standards. Code enforcement citations should be issued to Cook, Willsey said.
Public speakers also took issue with the tentative millage rate being set at 3 mills to collect Ad Valorem taxes, which will bring in $354,575 in revenues and are earmarked for the city to enter the Florida State Retirement system. A particular critique on this end was directed at what audience members said were Cook's promise to not raise taxes.
"You want to raise the budget by three mills. You want to raise the taxes by three mills to balance your budget," Willsey said. "I want to tell you something. I sat down this morning for four hours. I have a balanced budget in my hand that has zero tax increases and actually has a surplus and funds every department in the city."
"Why is it that I can do a budget that balances with no increase in taxes and fully funds every department but the elected officials that are responsible–the mayor and the city clerk–cannot devise a budget by law that you have to have on time and not raise taxes?" Willsey continued. "You know why? If it's all a budget, they're going to spend it. If they spend it all this year, they want more next year."
In response to a question on if he works in his office from 9 a.m. to 5 p.m. daily, Callahan said he's there from 7 a.m. to, sometimes, 8 p.m. 
"I'm required to be there by 7:30 but I get there early," Callahan said.