Community officials request funding during Holmes County Delegation meeting
NAN THOMPSON
nthompson@kentsmith.biz
With the new legislative session on the horizon, State Sen. Jay Trumbull and State Rep. Shane Abbott listened to several funding requests from various local officials during the Holmes County Legislative Delegation meeting on Oct. 3. 
Holmes County Board of County Commissioners Chairman Earl Stafford requested funding to complete the expansion of the EMS Building-the third component of previous funding for the Government Efficiency Center-due to cost inflation.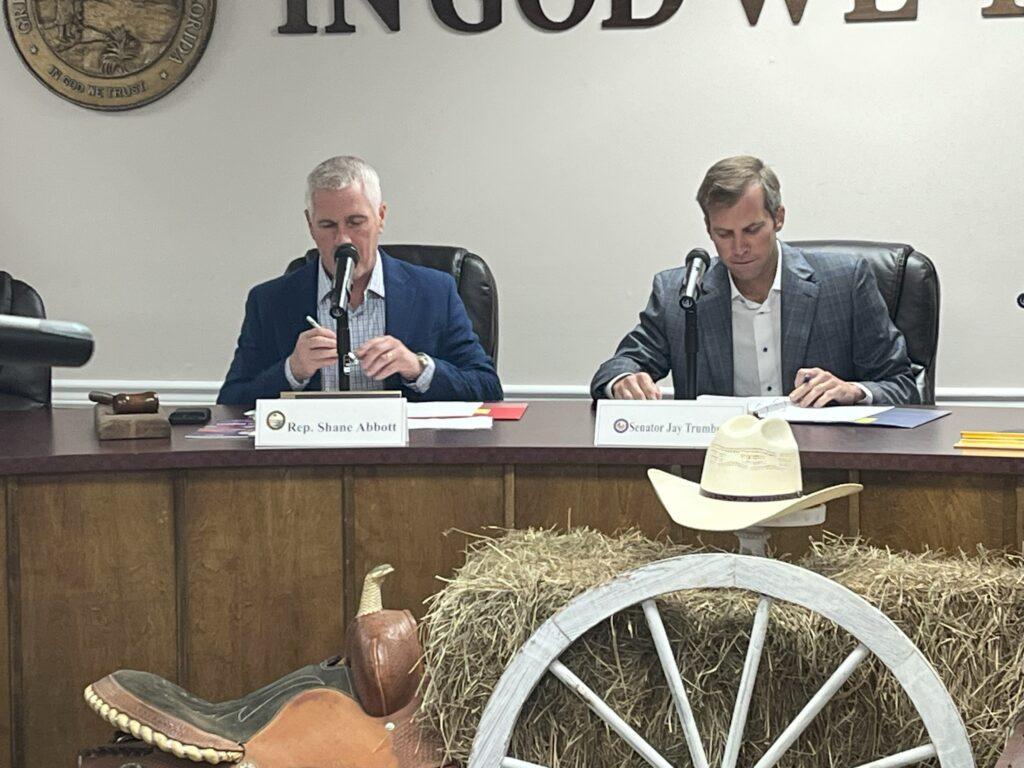 Sierra Smith, on behalf of the City of Bonifay, presented the delegates with a folder outlining a perceived need for sidewalks around schools, daycares, and parks. 
Parents have safety concerns due to having to walk in the street to get to some locations with strollers and children, Smith said.
A request for lighting and drainage was included in the sidewalk proposal. The project, if approved, would tie into five other grant-funded projects within the city.
The North Florida Office of Public Guardian Executive Director Karen Campbell requested funding for continuous care for behavioral and mental adults that have aged out of foster care. 
'These adults have no one and require 24/7 housing and supervision,' said Campbell. 'We cannot do it without help. We have a waitlist of over 200 people waiting for housing now.' 
Ron Sharpe, executive director of The Arc of the Bay, requested continued funding for their programs that assist persons with special abilities.
'We just celebrated our 65th Anniversary in Bay County and have been serving Holmes county for the past 2 years,' Sharpe said.
He further said waiting lists for services can take up to five years. While many of the positions at Arc of the Bay are on a volunteer basis, the center still faces rising costs.