Florida Power & Light Company provides 10K to set students on a healthy track to healthier lifestyles
Florida Power & Light Company (FPL) has awarded Holmes County Education Foundation a $10,000 grant to support the establishment of a groundbreaking health class for middle school students.
The Healthy + Body = Energy Project, spearheaded by dedicated Bonifay K-8 teacher John Wyrosdick, aims to empower students with the knowledge and tools necessary to adopt and maintain healthy lifestyles.
"The goal of this brand-new class is to encourage the study of adopting healthy lifestyles so students can make informed choices and live longer, healthier lives," Wyrosdick said.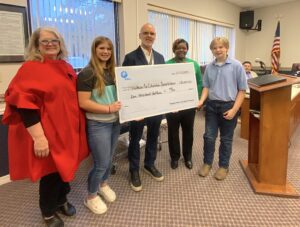 The grant will pay for computer laptops, diagnostic equipment and tests so students can learn to track their heart rate and blood pressure and test for diabetes and cholesterol levels, all of which can indicate their chances of heart disease, he said. 
"This will help students get a baseline to help them eat healthier and exercise. We need to educate our students to be healthy and make wise choices because what happens now is what is going to affect their health when they are older. I want to thank FPL for this opportunity to make this class happen," Wyrosdick said. 
FPL provided the grant through its charitable arm, NextEra Energy Foundation. Tracy Andrews, FPL external affairs manager, presented the check at the Holmes County School Board meeting this week.
"It is our pleasure to be able to participate in this program and to be able to partner with Bonifay K-8 to help students take ownership of their wellness," Andrews said. "We are humbled to play a small part in supporting the well-being of our students and the communities we serve."