After more than three decades, Captain Keith Goddin is retiring from the Holmes County Sheriff's Office.
Goddin started in law enforcement in 1990 dispatching for Holmes County, in 1992 he
went to work for the Bonifay Police Chief Dennis Lee. When Lee was elected
sheriff in 1993, Goddin moved to the sheriff's office with him, and he has
served HCSO since.
"I never had to look over my shoulder at Keith," Lee said. "I always knew that when I
told Keith I wanted something done that it would get done. It may not have been
in the way that I wanted it done, but it was done. I appreciate everything that
you have done for me and for the county, you're a good man and I love you."
"He was the onliest one that knew everything," Lee joked during Goddin's retirement
luncheon. "The rest of us only knew what he wanted us to."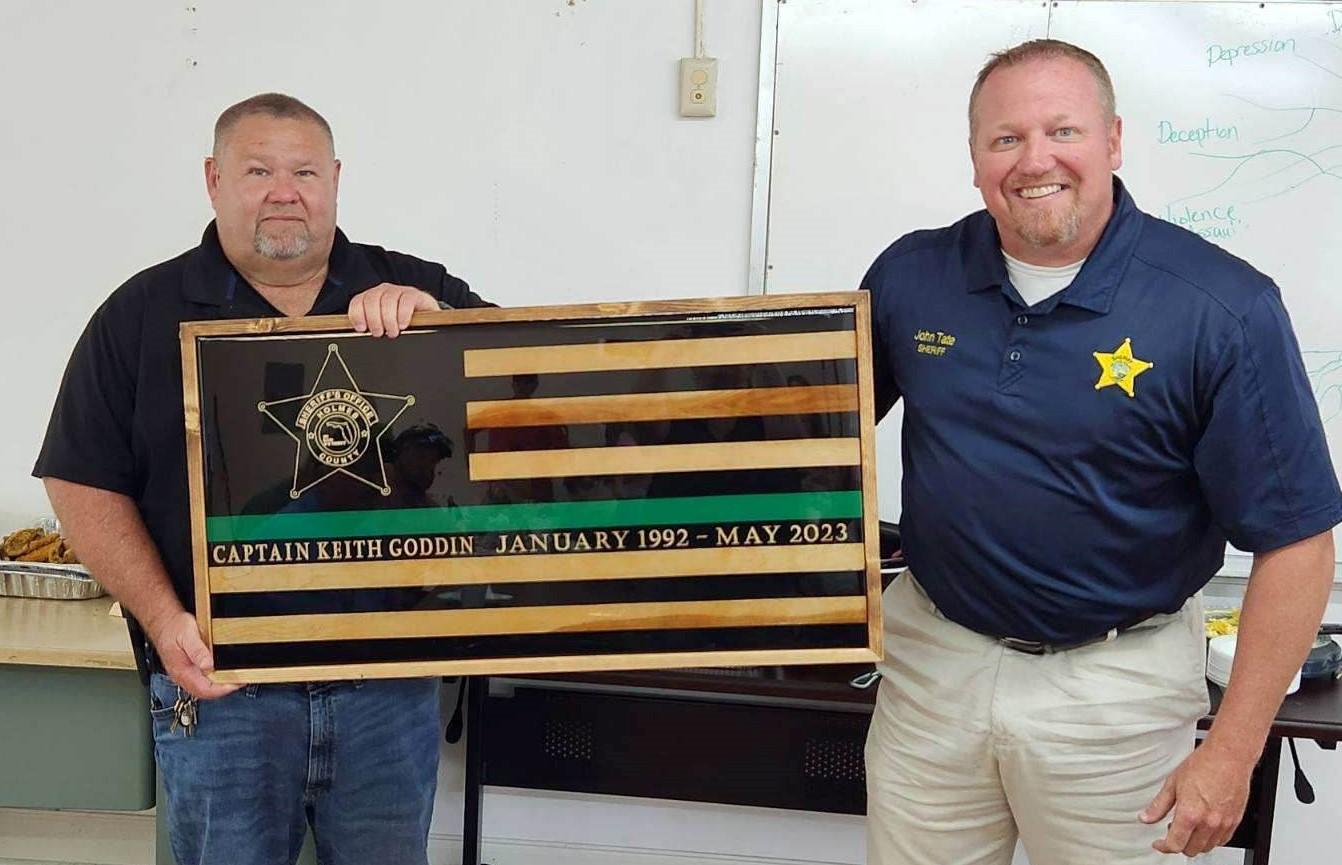 "We over at the State Attorney's office appreciate everything that you've done for us and for what you have been to the citizens of Holmes County," State Attorney Ben Keown said. "Hopefully we will see you on the river catching fish since you'll have the time for it."
Fellow deputies remembered times working with Goddin with laughter and love.
"I remember when I was a kid and Keith was just starting," Major Michael Raley said. "I gave him a hard time like kids do. When I came back, we were partners. He taught me a lot and kept me out of trouble when I actually listened. There were times when we were about to fight and times when we got along but all in all, I love ya."
Goddin is looking forward to retirement after 33 years so he can spend time doing things he loves.
"I plan to do some hunting and some fishing," Goddin said. "And of course, I'm going to tackle my honey-do list. I am going to celebrate life and enjoy all 12 of my grandchildren."
"I appreciate every one of y'all and I'm never more than a phone call away," said Goddin.