Gardner found guilty, given two life sentences
It only took a Holmes County jury 37 minutes to find 51-year-old Latorish Antonio Gardner guilty on all four counts he was facing in the murder of Derek Thompson and attempted murder of Mariah Maps.
The jury unanimously found Garder guilty of second-degree murder with a firearm, attempted first-degree murder with a firearm, shooting into a vehicle and shooting in public. The charges stemmed from a May 2021 incident involving Mariah Maps, mother of Gardner's children and her boyfriend, Derek Thompson, that left Thompson dead of a gunshot wound to the chest and Maps with a gunshot wound to the abdomen.
The prosecution called 13 witnesses: Maps; the Leons, a couple that witnessed the incident; James Lancaster and Mildred Sizemore, the owner and occupant of the car Maps was shot attempting to get inside of and hide; the first Holmes County Sheriff's deputy on scene and Holmes County EMS; a Florida Department of Law Enforcement Crime Lab Analyst, Jennifer Wilkerson; and Fourteenth Judicial Circuit Medical Examiner Dr. Jay Radke.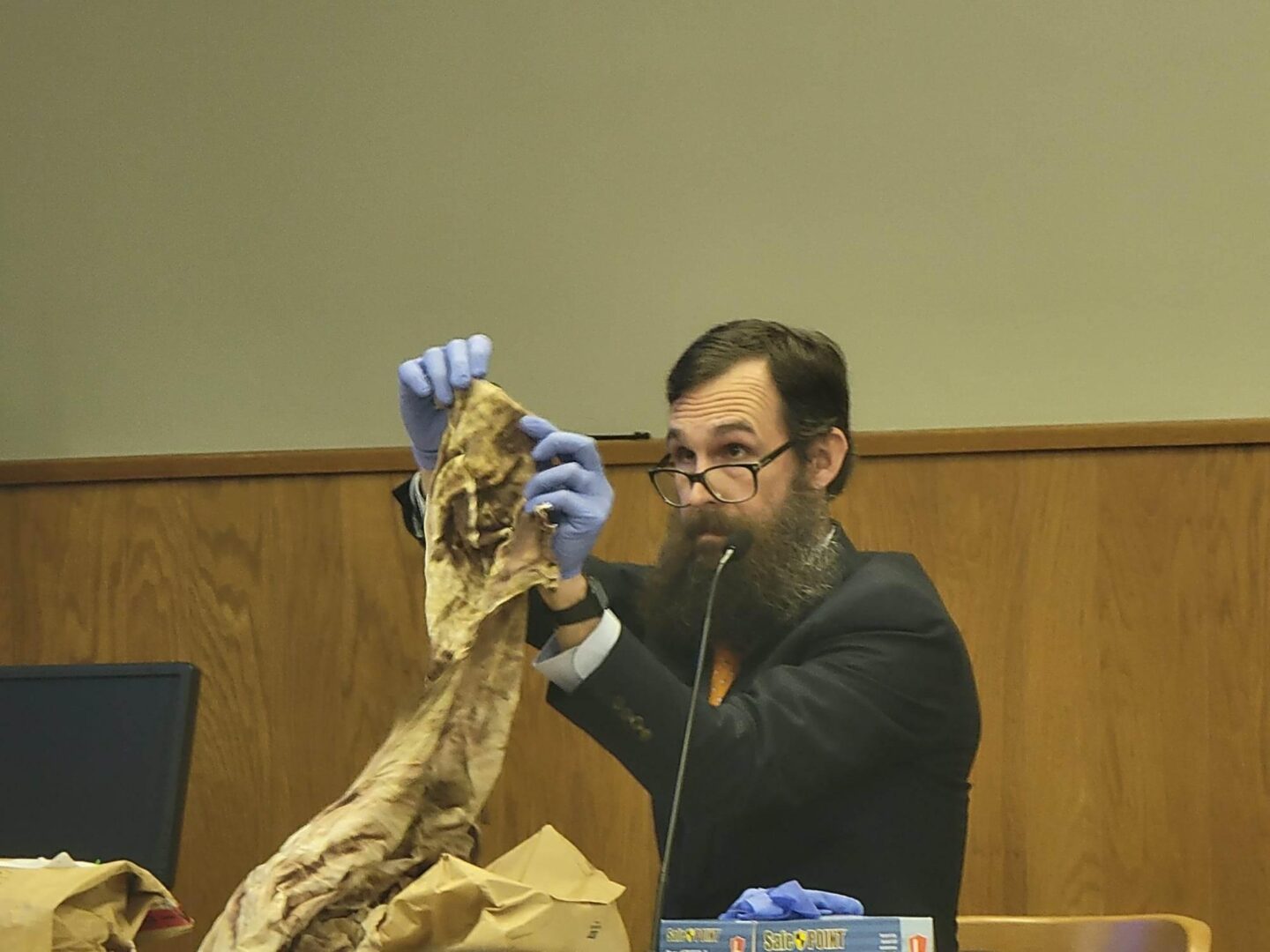 During the first day of testimonies, Jeremy and Megan Leon were called to the stand.
"We had stopped to eat lunch on our way home from visiting family when we heard a man shouting," Jeremy Leon said. "The next thing we knew, the man in the white shirt started shooting and we ran for cover."
"The scene was chaotic and there were children standing on the sidewalk," Jeremy Leon stated. "I did not see Mr. Thompson act aggressively in any way to Mr. Gardner. A few words were exchanged, and Mr. Gardner pulled out a gun and shot Mr. Thompson."
"I didn't see Mr. Thompson with a weapon or acting aggressively towards Mr. Gardner," Megan Leon said. "The children were standing there watching the argument and the little boy was screaming for his mother after Thompson was shot. It was a chaotic scene."
Maps was next to testify.
"During the first part of the incident, I think I might have hit Mr. Gardner with my purse which made him yell for everyone to watch," Maps said. "I don't remember hitting him after that, I may have pushed him a little to get him away from me."
"Mr. Gardner looked at me and said, 'I'm tired of this, I'm tired of you' and turned and shot Derek," Maps said.
Maps said she began to run through the parking lot and cars in a zig-zag pattern after Gardner shot Thompson. Gardner was chasing her yelling, "I am going to kill you."
Upon reaching Lancaster's vehicle, Maps leaned in the back passenger door pleading with Sizemore, "Please help me, he is going to kill me."
Lancaster testified to pulling his weapon out and showing it to Gardner but it did not stop him.
"I showed the man my gun but he reached around me and shot through the window into the lady, and it exited and hit my car," James Lancaster said. "After he shot the lady, he said, "I'm done," and he walked away, grabbed the children and left the scene."
First responders that arrived on scene testified to securing the area before checking on the victims. Upon concluding Thompson was deceased, help was rendered to Maps who had been shot in the stomach.
Maps was alert and talking even through severe pain but was still able to identify Gardner to authorities.
Gardner's cousin, Tyrone White, testified that Gardner came to his house in the hour after the incident occurred and told him what he had done. He said Gardner asked if he should run or turn himself in when they heard sirens approaching.
"He said he would turn himself in, but that he wanted to say goodbye to his kids first and he left," White said.
Gardner was picked up by the Jackson County Sheriff's Office who also completed a search of Garnder's residence. The search found a partially empty box of ammunition matching the type that was found at the scene, 9 millimeter Hornaday shells.
Dr. Jay Radke gave testimony that found Thompson's cause of death to be a gunshot wound to the chest. During the autopsy Radke performed on Thompson, it was found the bullet entered the chest, traveled through the right lung and then severing the spinal cord which caused Thompson to internally bleed out and die within seconds.
The murder weapon was never found during the investigation, but was not needed as the eight spent casings were found on scene and matched the box of ammunition found at Gardner's home.
Once the state rested their case the defense chose not to call any witnesses. Gardner chose not to testify on his own behalf.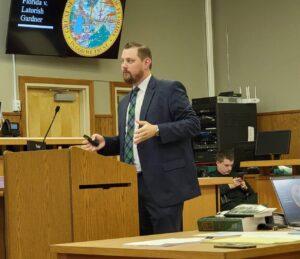 Assistant State Attorney Benjamin Keown proceeded with closing arguments.
"Latorish Gardner showed his intentions with the statement, 'I am sick of this, I am sick of you,' Keown said. "He said it with intention because he knew what he intended to do to Mr. Thompson."
"He chased Miss Maps down with the intention to kill her," Keown stated. "He shot through the window because he was determined to put a bullet inside of her. The state has proven beyond a reasonable doubt that Latorish Antonio Gardner knew what he was doing that day when he took the life of Mr. Thompson, and attempted to take the life of Miss Maps. I submit to you that there is no other choice than to find Mr. Gardner guilty as charged."
Gardner's defense attorney Mutaqee Akbar claimed the crimes were either self-defense or in the heat of passion.
"Mr. Gardner felt threatened by Mr. Thompson and was unsure of what he was going to do," Akbar stated. "He didn't know him, and he did what he felt was necessary to protect himself after the altercation with Miss Maps. The signs point to justifiable homicide. The state did not prove with evidence the crime of second-degree murder or attempted first-degree murder."
"All of this today is because of Miss Maps," Akbar said. "She knows now that she is the reason for all of this. Because she was aggressive, because she had ill will, because she was out of control because she was angry, Mr. Gardner saw that. That put him in the position to protect himself because of not knowing what was next."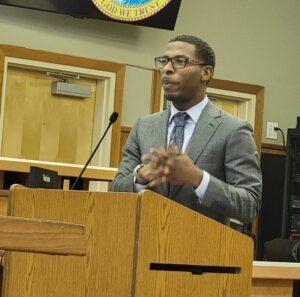 "How much more evidence do you need when you have witnesses standing there watching you shoot the guy,?" Keown asked. "How much more do you need when there is a man dead with a bullet through his spine? There doesn't need to be more. The witnesses speak for what happened."
Circuit Judge Russell Roberts read the jury their instructions before releasing them to deliberate – 37 minutes later they came back with the verdict.
Roberts chose to handle sentencing in the case immediately following.
Family impact statements were allowed before the sentence was handed down.
"You took the life of my brother on May 2, 2021," Shakiba Thompson, sister of Derek Thompson said. "You took my parents' first born child. You have no idea of the damage you have caused in our family. He would never hurt anyone, he was and always will be a gentle giant. Only a coward would pull out a gun and take someone's life, and that is exactly what you are. You went to the rest area with hate in your heart and stole Derek from us. I have never hated anything in my life because it's not right, but I truly hate you with every bone in my body. I hope you spend the rest of your life confined to a prison cell, I wish you a long life of misery and a slow and painful death. My brother brought Christ back to his life three weeks before he died. I know he will rest in peace, but I cannot say the same for you."
No one in Gardner's family, although in attendance, chose to speak on his behalf nor did he.
Roberts handed down his sentence: life in prison for both second-degree murder with a firearm and attempted first-degree murder with a firearm, 15 years for shooting into an occupied vehicle and 11 months 29 days for shooting in public. The sentences will be served consecutively.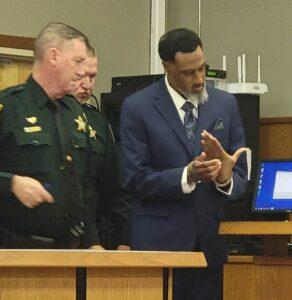 Thompson's mother, Benita Thompson-Nixon, spoke to the Advertiser after the sentence was handed down.
"I'm glad because they took my first born child," said Thompson-Nixon. "Whatever was going on with him and Mariah, my son didn't have anything to do with it, he was just in the wrong place. I'm sorry for (Gardner's) family because they are going through the same thing we are. I do want to let them know that. You killed my child for no reason, so I have no sympathy for you. I know one day that I am going to have to forgive him if I want to see my son again. But that isn't today. God is working on me."