Bonifay approves proposed plans for Veterans Memorial Park
Bonifay City Council approved proposed plans for a Veterans Memorial Park improvement project when they met in special session July 24.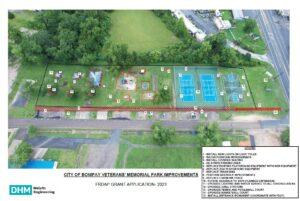 Engineers from Melvin Engineering presented the council with plans to apply for a Florida Recreation Department Assistance Program grant to fund the improvements. The project will need to be completed in phases as the $200,000 grant will not be enough to cover all improvements planned by the city. The project will take several years to complete, beginning with phase one, which will include purchasing new ADA compliant playground equipment, installing new lighting throughout the park, and installing a covered seating area.
Melvin Engineering is expected to submit the application in the next few weeks.
A regular session immediately followed the special meeting. Council members approved a measure to freeze utility rate increases for one year. The freeze is due to the city implementing a new program and wanting to make sure there are no issues in the billing process before the rate increase process begins.
Bonifay City Council will meet again in regular session at 6 p.m. on August 14.