OPINION | Reynolds: Sarah Segrest was an inspiration
For decades, Sarah Segrest taught seventh grade English and Holmes County French.
Mrs. Segrest was the first touch of culture that came into the young lives of us country kids just crossing the street from the old brick Bonifay Elementary School to the junior high wing at Holmes County High.
She was the right combination of nurturing and challenging for seventh graders. We were no longer children, but not quite yet teenagers.
At the rear of her classroom were display spaces for flower arrangements featuring blossoms and branches from her garden. Early in the new year, she took us on a field trip to see her camellias in their full glory.
Mrs. Segrest was also an artist. An ever-changing exhibition of her paintings lined the walls. Plus, and it was no small bonus in the heart and heat of the Florida Panhandle: In those days, hers was the only classroom at HCHS that was air conditioned.
By the time we got to ninth grade, some of us again had her as a teacher, this time for French class. Her elevated aesthetic sensibilities had become ever more obvious. Art and literature and poetry and flowers — and now French, with a Holmes County accent.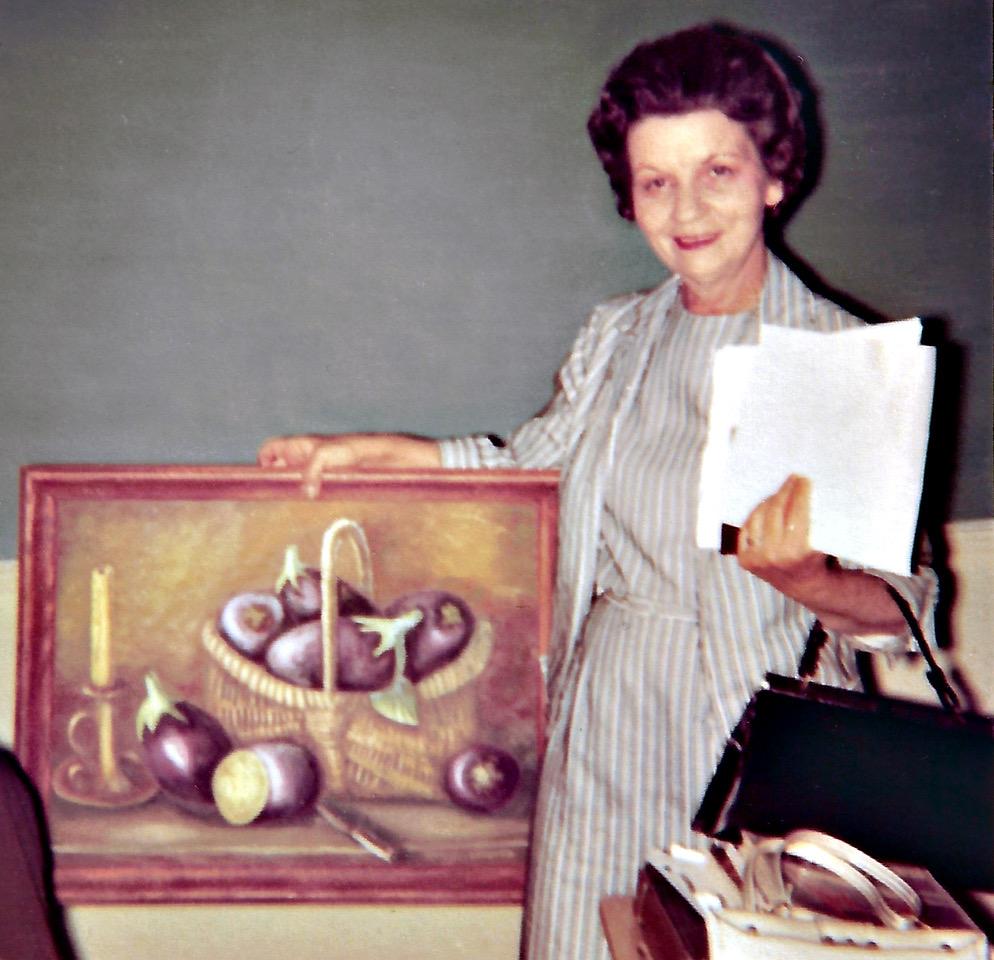 *My first job after law school was in Chicago, very far from Esto. As I got more interested in art, I thought of Mrs. Segrest. I wrote asking if I could visit on my next trip home.
And so I did. She and her husband — Dr. R.H. Segrest, who, back in the day, treated the sick and delivered half of the kids in Bonifay — lived in a secluded 10-acre woodland just south of town, thick with pines and hundreds of camellia bushes.
Their home was filled with her paintings. As she led me back to her studio, she told stories about what she had painted and when and why. I was especially drawn to a still life of watermelons on her easel.
"Well, you may not want to pay what my teacher says it's worth," she warned me: $100.
It was my first original oil painting, and a perfect way to remember her, and home.
I'd also admired an unframed painting of persimmons — especially after she said the persimmons came from another favorite teacher, Mrs. Elizabeth Gavin, who taught 10th grade biology. As I wrote a check, Mrs. Segrest tucked the persimmon canvas unnoticeably behind the frame of the watermelon painting.
"Dr. Segrest doesn't like me to give them away," she whispered.
A few years later, as my interest in art kept growing, I went to see Mrs. Segrest again, on another trip back home, hoping for one of her paintings as a Christmas gift for my mother. She suggested an oval of pink and red roses hanging in here living room. I put a red bow on it.
After mother died, I reclaimed the painting for myself — and now it reminds me of them both.
Ray Reynolds, a former editor of the Holmes County Advertiser who grew up in Esto, owns an art gallery in California (www.thomasreynolds.com). He credits Mrs. Segrest with inspiring his interest in art.