Holmes Creek Saddle Club to hold obstacle challenge 
NAN THOMPSON
nthompson@kentsmith.biz
Editor's note: This story has been corrected from a previous version to reflect the name of the club, Holmes Creek Saddle Club.
As horse trainer Craig Moore once said, 'Quiet people make spooky horses.'
This is something Beth Sheffield believes in completely, so she works with her horses to not be afraid or skittish through obstacles and sounds that might otherwise confuse or spook a horse.
Sheffield and the Holmes Creek Saddle Club have put together obstacle challenges since 2019. This year's challenge will include 25 challenges, 15 being new this year.
'Bringing in new obstacles makes it fair for all contests,' said Sheffield.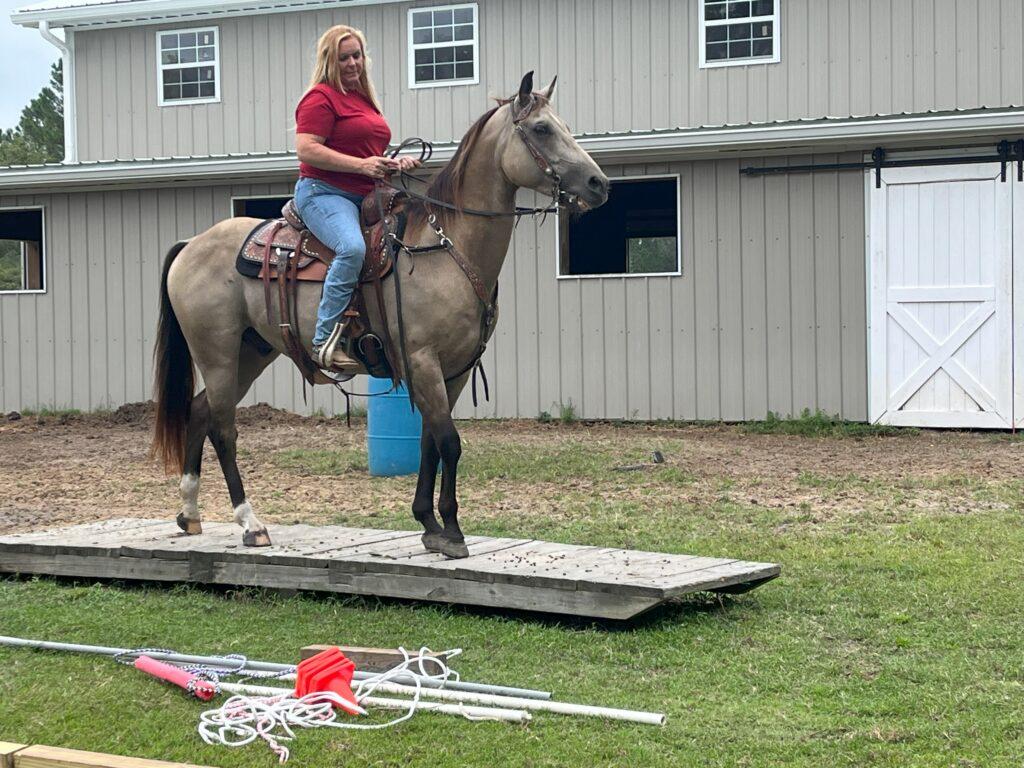 The obstacles are to challenge and test the rider and horse with things like communication skills, trust, and problem-solving issues.
Butterscotch, Sheffield's horse, has gone through one obstacle called a barrel roll where the house must push with his chest barrels on a frame without becoming spooked by sounds or the pressure on their chest. Butterscotch did not falter when demonstrating the obstacle during a visit from the Holmes County Advertiser. 
Members of the Saddle Club are not eligible to compete but will judge the event. The challenge is open to all ages, seasoned riders, and beginners.
'Last year we had around 75 riders and each year the number of riders we have has grown,' said Sheffield. 
This year's event will be held November 18, beginning at 9 a.m. at 3653 Pine Log Road in Chipley. Registration can be done online or at the door. 
For more information about the Obstacle Challenge contact Beth Sheffield at 850-260-5873.
To register for the event go to holmescreeksaddleclub.eventbrite.com.